If you spend enough time on Pinterest, you might begin to notice that many pins contain the same cover image. That's because many bloggers use Canva, a popular free graphic design tool to design their Pinterest graphics, as well as their graphics for other social media platforms. Where else can bloggers go to find high-quality images for free? It's true that there are many royalty-free photo sites. But royalty-free does not always mean free to use for profit. If you have a money-making blog, you need to check the licensing carefully before using a photo from one of the royalty-free sites. That can be time-consuming. So what's the alternative? I recently discovered another free graphic design site that has a library of photos that truly are free to use. Let me tell you about Visme, another free graphic design tool you might want to add to your blogging toolkit.
How to Use Visme
The work area where you create your graphic designs is similar to Canva, and you have similar choices for determining the templates for a variety of social media platforms. You choose your layout, text options and graphics. You can upload your own photos, then when you are finished with your design, you can download it. If you are familiar with Canva, then Visme is very easy to learn. The navigation is strikingly similar to Canva once you are in the workspace for your project.
Visme Excels at Infographics
If you need to create infographics for your blog, then you will especially want to give Visme a try. Visme markets itself to businesses and educators as an infographics design platform, with colorful and eye-catching design options. Again, users of Canva will find it easy to transfer the navigation methods to Visme and be able to create infographics quickly. This is an infographic chart I easily created using Visme.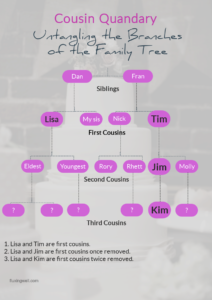 Free Graphic Design Tool, With Some Drawbacks
Visme's basic plan is free, and there is no trial period to limit the amount of time you can use it for free. There are a few drawbacks with the free account. First, jpg is the only file option for downloads with the free account. Unlike Canva, which offers png and pdf options. Next, the user is limited to five projects. However, once a project is downloaded, it can be deleted from Visme to make room for another creation.
The biggest drawback for me is that there is no Visme app. I depend on the Canva app quite a lot when I am promoting my latest blog post and sharing graphics to different social media platforms. I do that almost exclusively using my phone. Maybe the executives at Visme will see this post and decide to add an app. It's sorely needed if they want to compete with Canva. I designed this Pinterest graphic for my Cousins Twice Removed post, but had to do all of the editing and uploading of the photo on my laptop. It was a little inconvenient.
Bottom Line
I am definitely going to keep Visme as a free graphic design tool option, because there are times when I can't find what I'm looking for on Canva. I will continue to use Canva as my primary graphic design tool, mainly because it has an app. Visme is a good backup, though, and if they add an app, I would probably use Canva and Visme equally.
Would Visme be a Good Option for You?
Many bloggers are looking for a way to stand out and be different. Visme is different, not as widely used, and has a lot of attention-getting graphics to offer. In that way, it is similar to VistaCreate, another lesser-known graphic design tool for non-designers. It might be just the free graphic design tool that you are looking for to add a unique touch to your posts.
Looking to Make Your Blog Get Noticed?
Standing out from the crowd is tough, especially when it comes to blogging. Need to add some unique, memorable features? You might like my eBook containing information about some excellent free media tools for bloggers.
Have a wonderful week, and may all of your graphic design efforts meet with great success!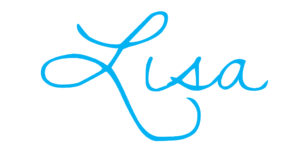 Related Posts:
Lisa Mitchell is a school librarian who likes to use her job as an excuse to stay up far too late reading books and noodling around with tech tools.